Description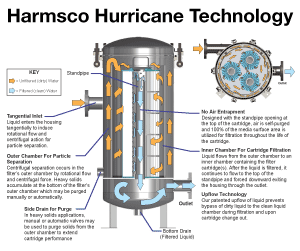 Harmsco HP Hurricane filters provide unsurpassed performance. Our unique design separates dense solids prior to cartridge filtration for extended filter life, increased dirt holding capacity and reduced maintenance costs. Certified to ANSI-NSF 61
Tangential Inlet
Liquid enters the housing tangentially to induce rotational flow and centrifugal action for particle separation.
Outer Chamber For Particle
Separation Centrifugal separation occurs in the filter's outer chamber by rotational flow and centrifugal force. Heavy solids accumulate at the bottom of the filter's outer chamber which may be purged manually or automatically.
Side Drain for Purge
In heavy solids applications, manual or automatic valves may be used to purge solids from the outer chamber to extend cartridge performance.
No Air Entrapment
Designed with the standpipe opening at the top of the cartridge, air is self-purged and 100% of the media surface area is utilized for filtration throughout the life of the cartridge.
Inner Chamber For Cartridge Filtration
Liquid flows from the outer chamber to an inner chamber containing the filter cartridge(s). After the liquid is filtered, it continues to flow to the top of the standpipe and forced downward exiting the housing through the outlet.
Upflow Technology
Our patented upflow of liquid prevents bypass of dirty liquid to the clean liquid chamber during filtration and upon cartridge change out.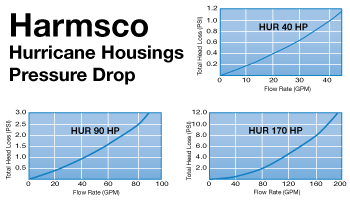 Applications
Commercial/Residential Drinking Water
Cooling Tower Filtration
Desalination Pre-filtration (coated option)
Surface Water Treatment Rule (SWTR) LT2
Process Water
Whole House Filtration
Industrial Waste Water Treatment
Reverse Osmosis Pre-filtration
Small Community Compliance LT2
Well Water
Ground Water Remediation
Ground Water Under Direct Influence (GUDI)
Features
Combination cyclone separator and cartridge filter in a single compact design
Patented Up-flow design with tangential entry – prevents air entrapment
Rotational flow "flutters" media pleats – improving loading performance
Electropolished 304 or 316L stainless steel housing
Fail-Safe lid closure, rated for 150 psi
Three sizes for greater media surface area
CPVC standpipe (standard) – stainless steel optional
Largest selection available of cartridge micron ratings and media, including carbon block
NSF/ANSI Standard 61 Listed
Filter Specifications
Electropolished 304 or 316L stainless steel
Temperature – 140°F (60°C) max. Up to 250°F (121°C) with optional stainless steel standpipe and high temperature cartridges installed
Pressure – 150 psi (10 bar) max.
Wing nuts – brass
Rim gaskets – EPDM (Buna-N, Viton available)
BSTP optional