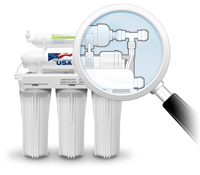 What type of Cartridge do I need?
This guide can help you find out what cartridge you need to replace or the type you would need to remove a specific contaminant. If you are still unsure of what your system needs, E-Mail us or call us at 1-955-8561.
Carbon Cartridges
Carbon cartridges are primarily used to remove taste and odor from chlorine present in all water from a public water system. Some carbon cartridges reduce or remove lead that can be present in water.
Sediment cartridges remove dirt, sand and rust commonly found in water that travels through aging pipes and come in a variety or style and micron sizes (pore size of the cartridge).
Pentek Specialty Carbon Block Cartridges
More Information