Description
The WH1054CSCX acid neutralizing filter correct pH between 5 & 7. pH correction stops blue/green staining of sinks, toilets, tubs and showers and improves water taste by stopping corrosion of copper pipes.
A combination of Magnesium Oxide and Calcite is used to achieve a balanced reaction in differing flow conditions. Magnesium Oxide dissolve faster and is best for high flows. Calcite produces a much slower reaction and works best for low flow rates. The combination provides even pH correction for homes with varying flow rates.
The Fleck 5600SXT backwashing control valve provides sediment filtration between 10 – 20 microns. Sediment is trapped in the media bed and backwashed automatically.
The Structural 10" × 54" PolyGlass tank has a removable dome hole cap for ease in adding media to the tank. As the water passes through the media bed, the minerals dissolve in the water to neutralize the acid. As a result the media bed diminishes and must be replenished from time to time. The dole hole allows replenishment to be performed without disconnecting the plumbing.
Benefits:
Acid Neutralizing Filter stops Blue/Green Staining
Stops Corrosion of Copper Pipes & Metal Plumbing Fixtures
Improves Water Taste by Removing Metalic Copper Taste
Removes Dirt, Rust and Sediment with Automatic Backwash
Installs on Main Line, Treats all Water Through Entire Home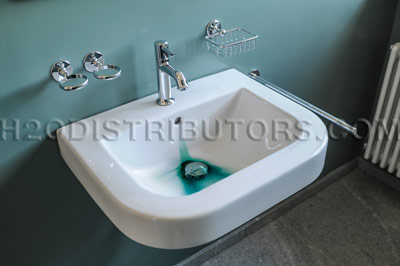 The blue/green staining shown in the image is a result of copper corrosion caused by low pH, acidic water.
Features:
Magnesium Oxide and Calcite Media Bed
Fleck 5600SXT Backwashing Valve Cleans and Regrades Media
Structural Poly Glass Tank with Removable Dome Hole
Funnel, Rubber Bands, and Extra Media Included
pH Correction Between 5 – 7
Flow Rate 8 – 10 GPM: Peak flow rate 10 GPM
1" MPT Noryl Yoke Standard Connection & Bypass Valve
Replenish Media through Removable Dome Hole
More Uses Than Bottled Water